Traveling by public bus in Crete
Bus lines, stations, routes, connections and timetables

On Crete you can fairly comfortably travel by public bus. There are no trains or railway system in Crete. The buses are safe and cheap, but of course a bus trip will take longer than the same route by hire car or taxi. E.g. a bus trip from Chania bus station through Vryses to Chora Sfakion will cost 8,30 € (2017) per person and takes about 1 hour and 40 minutes. Your luggage is transported in the stowage space in the underside of the bus.
On certain times and routes it can be very busy at a bus. So if you really need that bus: be there in time. The buses themselves usually are in time, and keep to their timetable.
At the major bus stations you can find lockers for your luggage.

Crete offers an extended grid of public bus routes. They are mainly operating to enable villagers to go to the cities in Crete. But they offer a cheap option to tourists as well, although the timetable is not always designed to be of special service to tourists. Nevertheless you will often see tourists in the local buses on Crete, sometimes even mainly tourists.
You need to study the grid, the connections, and the timetable to find your way with the bus in Crete. You can buy tickets at major bus stations, at kiosks, or otherwise in the bus itself.
During the year, the timetables often change, so if you are planning a trip in advance you need to check the timetables for these changes. From mid October to end of March there are significantly less bus connections than between April and October. During the summer months the timetables get an extra boost, with more lines and connections at higher frequencies. These extra lines are specifically serving tourists.
The Greek public bus company is called KTEL, the "Intercity Road Transport Companies in Greece". It is a cooperative company of local bus companies, established in 1952. Each individual bus is owned by one or more private persons, who themselves are responsible for maintaining and operatining the bus. After taxes its revenues are split amongst the shareholders. The planning of the timetable is done by the cooperation KTEL.
KTEL has many offices all over Greece.
On Crete public transport by bus was previously organised by KTEL West-Crete and KTEL East-Crete. Now the two companies have merged to one.
Below you find diagrams of all the bus connections in Crete: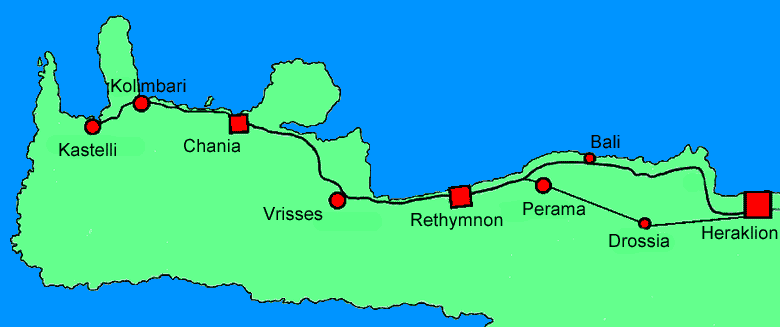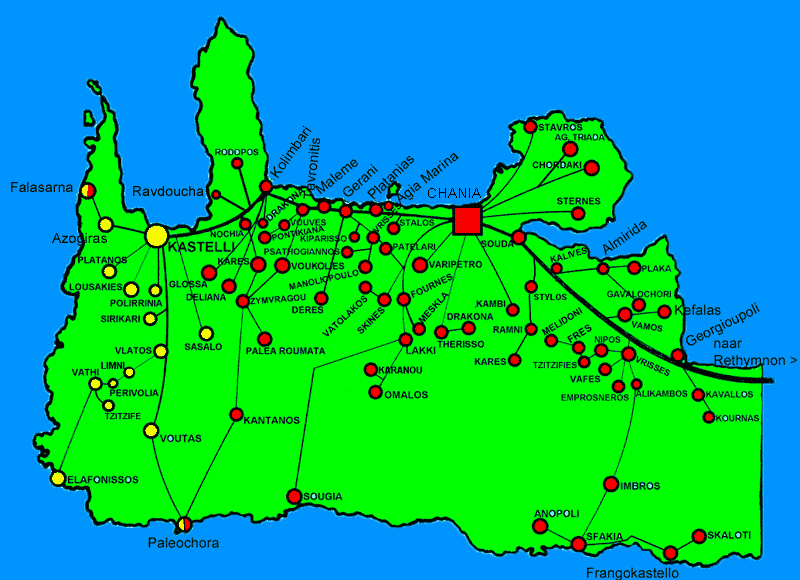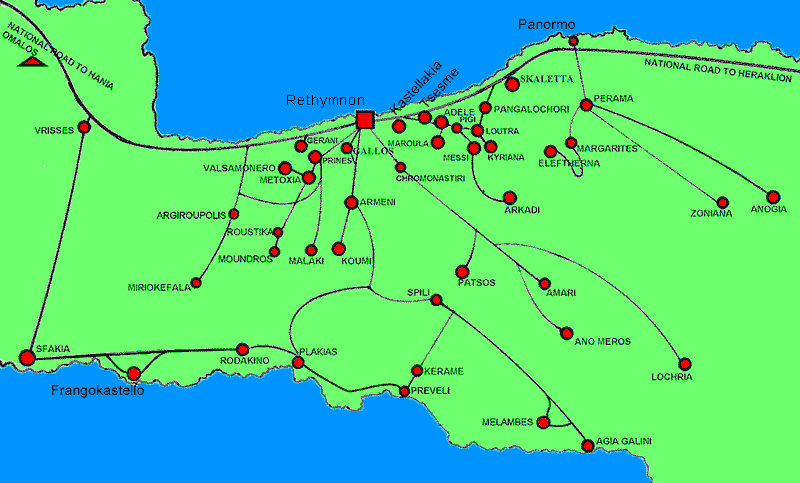 Buses starting from Chania town:
Here is how to find the main bus station in Chania town: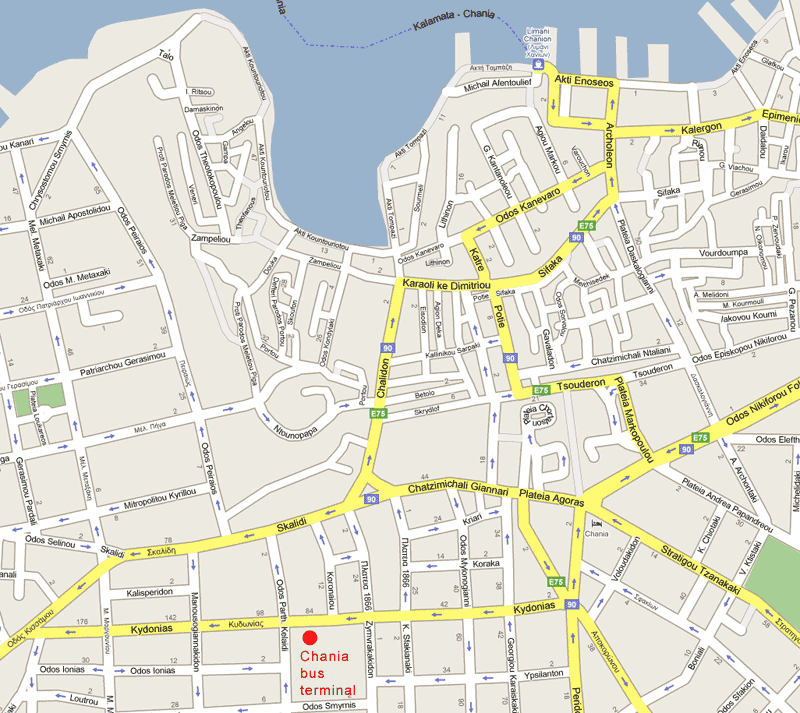 Timetable buses from Chania
Timetables buses from Chania
Buses starting from Heraklion and Rethymnon town:
To reach Sfakia by bus from Heraklion (and Rethymno), you need to take a bus from Heraklion or Rethymno towards Chania, and change bus at the village of Vryses. There you switch bus, in order to join the Chania - Sfakia bus, passing through Vryses.
In Heraklion are 2 different main bus stations. From Station A the buses leave to Rethymno and Chania (switch bus at Vryses, between Rethymno and Chania):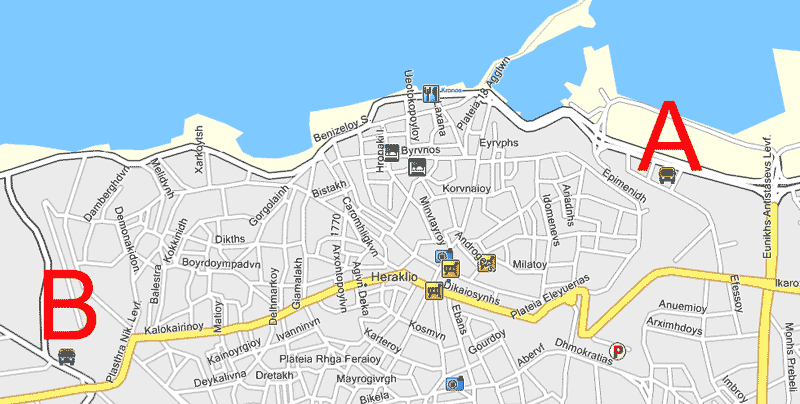 Timetable main line buses between Heraklion - Rethymno - Chania
Timetables buses Heraklion - Rethymno - Chania