Greek namedays calendar
"Eortologio"
Below you find all the Greek name days. In Greece and Crete it's a custom to specially celebrate your (holy) name day instead of, or besides, your birthday.
So, for instance, if your name is Giorgos, your nameday is 23rd April , Stavros is 14th September, Jannis is 7th January, Andreas is 30th November, Alexis is 17th March etc.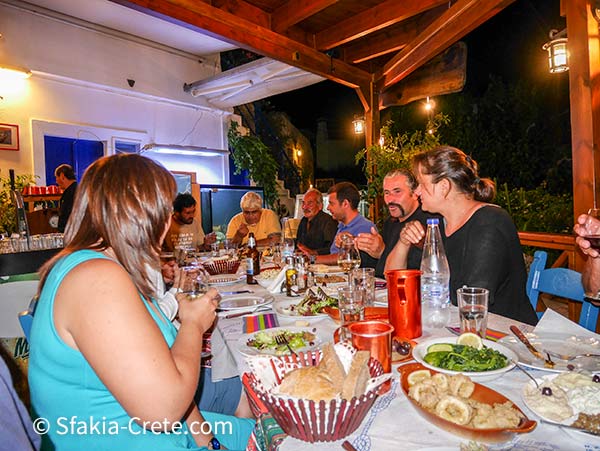 According to the Orthodox Church, every day of the year has been dedicated to the memory of a Saint or a martyr from the Holy Bible and Holy Tradition. This day carries the name of the Saint and it's called "nameday." If someone is named after a Saint, then there is a big celebration on his/her name day. In Greece, namedays are usually more important than birthdays. Gifts are given, festive meals and desserts are prepared, and special preparations are made for an open house. Usually, namedays are on the same date, every year. These are the non-floating namedays. There are some "floating" namedays though, that every year are on a different date.
Those who are not named after a saint have a party on All Saints' Day, 8 weeks after Easter.
JANUARY

1 - New Year's Day - Agios Basileios, Vassilis (Basil)
6 - Theofania, Theofanis, Fotis, Fanis, Fotini
7 - Synaksi Ioannos, Ioannis, Yannis, Giannis (John), Gianna, Janna, Jana
8 - Dominikis (Dominique)
10 - Grigorios Nussis
11 - Theodosios, Thodoris (Theodore)
17 - Antonios, Antonia, Antonis (Anthony)
18 - Athanasios & Kurillos, Thanassis
19 - Makarios
20 - Eythimios, Thimios
21 - Maximos, Massimos/ Neofytos / Agnis (Agnes)
22 - Anastasios / Timothetos, Tassos
23 - Agathagellos
24 - Xenis, Xeni
25 - Grigorios Theologos / Margarita, Grigoris, Grigorios (Gregory)
26 - Xenofontos
29 - Ignatios
30 - Trion Ierarxon
31 - Kyros & Ioannos Aaron


FEBRUARY

1 - Tryfonos
2 - Ypapanti tos Sotiros, Sotiri
5 - Agathis (Agatha)
6 - Voskolos / Fotios
7 - Parthenios
8 - Zaxarios / Theod. Stratilatos
9 - Nikiforos
10 - Haralampous, Zinonos, Haralambos, Hara, Hariklia, Haroula
11 - Vasios
12 - Meletios
13 - Akula & Priskillis (Priscilla)
14 - Ayxentios, Valentini, St. Valentine
15 - Eusevios, Eusebios
17 - Theodoros Tironos / Poulcherias
18 - Leontos Romis
20 - Agathonos / Vissarionos
22 - Anthi (Anthea)
23 - Polykarpos
23 - Nestoros
25 - Tarasios
26 - Porfyros, Sevastianos (Sebastian), Fotini


MARCH

1 - Marias Aigyptias, Efdokias / Tis Tyrofagos
2 - Efthalias
3 - Kleonikos
5 - Kononos
7 - Laurentios (Laurens, Laura)
8 - Theofylaktos
16 - Xristodosios
17 - Alexios, Alexia, Alexis (Alex)
18 - Kyrillos
19 - Xrysanthos, Chrisantos
21 - Iakovos (Jacob)
25 - Evagelismos tis Theotokos, Evagelos, Eva, Vangelis
27 - Ilarionos, Lydia
31 - Ypatios


APRIL

6 - Eftyxios
15 - Leonidas (Leo)
23 - Ag. Georgios, Giorgos, Giorgis, Yorgos (George) ##
24 - Elisabet (Elisabeth, Lisa, Lies)
25 - Marcos (Mark)
28 - Panayotis, Panagiotis, Panos, Panagiota, Pigi*

## Giorgos' nameday is on 23 April, unless this is Greek Easter Sunday, or in the week before it. Then it is celebrated on the first Monday after Easter Sunday.
Zoi nameday is 1 week after Easter.

MAY

2 - Zoodochos Pigis
3 - Timotheos (Timothy, Tim)
5 - Eirinis, Irini (Irene)
6 - Serafim
7 - Akakios
9 - Christoforos (Chris)
10 - Simonos (Simon)
11 - Kyrillos & Methodos
13 - Sergios, Glykerias, Glykeria (Sergio)
15 - Paxomios
17 - Andronikos
18 - Ioulias, Ioulia (Julia, , Julie)
19 - Menandrios
21 - Konstantinos & Elenis, Konstantinos, Kostas, Thina, Kostathina, Eleni (Helen, Tina, Dina)
27 - Ioannos Rosos
28 - Tis Analipseos
29 - Theodosias
30 - Isaakios (Isaac)


JUNE

2 - Nikiforos
4 - Marthas & Marias, Martha
5 - Dorotheos (Dorothea, Dorothy)
7 - Sevastianis (Sebastian)
8 - Kalliopis, Kalliopi
11 - Vartholomaios, Varnava (Barbara)
19 - Paisios
22 - Zinonos
29 - Petros & Paulos, Petros, Pavlos (Peter, Paul, Pavel)
30 - Synaksi ton 12 Apostolon, Apostolis, Apostolos

JULY

1 - Kosma & Damianos (Damian)
3 - Yakinthos
7 - Kuriakis, Kiriaki
8 - Theofilos, Prokopios
9 - Pagratios
11 - Eufimias, Olgas (Olga)
12 - Veronikis (Veronica)
14 - Nikodimos
16 - Athinogenoss
17 - Marinas, Marina
18 - Aimilianos (Emile, Emilie)
20 - Profiti Elia, Ilias
22 - Marias Magdalinis, Magdalini, Magda, Magdalena, Lena
26 - Paraskevis
27 - Panteleimonos, Pantelis
29 - Kallinikos
31 - Iosif Arimatheias, Iosif, Sifi
(Joseph, Jozef, Joost)

AUGUST

6 - Sotiris, Sotiria
7 - Asterios, Asteria
15 - Assumption Day - Koimisis tis Theotokos, Maria, Despina, Thespina, Marios, Panagiotis, Panagiota, Parthena
24 - Kosma tos Aitolos
26 - Andrianos & Natalias, Adrianos, Nathalia, Natalia, Natasha, Adrian
27 - Fanourios, Fanouria
30 - Alexandros, Alexandra
(Alexandra, Sandra, Sander, Alexander, Alex)

SEPTEMBER

1 - Simeon
3 - Anthimos
4 - Moisi, Ermionis
5 - Zaxarios, Zacharias
8 - Gennisi tis Theotokos
9 - Ioakeim & Annis (Joachim, Anna)
11 - Evathia (Eve, Eva, Evi)
13 - Kornilios, Aristeidos, Kornilia
14 - Ypsosi tos Timios Stauros, Stavros (Steven), Stavroula
15 - Nikita
16 - Eyfimias
17 - Sofias, Pisteos, Agapis, Elpidas, Sofia, Agapi, Elpida
18 - Eumenios, Ariadnis (Ariadne)
20 - Eustathios, Stathis
22 - Fokas
23 - Sullipsi Prodromos
24 - Theklas, Thekla
25 - Eyfrosinis
26 - Metastasi Ioannos Euaggelistos
27 - Kallistratos
29 - Kuriakos, Kiriakos


OCTOBER

1 - Ananios / Pomanos Melodos
2 - Kuprianos / Iosstiounis
3 - Dionisios Aeropagitos, Dionisos
4 - Ierotheos
5 - Xaritinis
6 - Thoma (Thomas, Tom)
7 - Poluxronios
8 - Pelagias, Pelagia
9 - Iakovos (Jakob)
10 - Eulampios
15 - Loskianos
18 - Loska, Loskas (Lucas, Luke)
19 - Kleopatras
20 - Artemios / Gerasimos Kefallinias, Yerasimos
21 - Sokratous, Sokrates, Sokratis
23 - Iakovos (Jacob)
24 - Sevastianis (Sebastian)
26 - Dimitrios Myrovlitos, Dimitris, Dimitrios, Dimitria (Jim, James)
27 - Nestoros
28 - Agias Skepis
30 - Zinovios


NOVEMBER

1 - Ag. Anarron/ Kosma & Damianos, Anargiros, Argiris, Kosmas, Damianos (Damian)
8 - Mixael & Gavriel, Mixalis, Michail, Michali, Michalis, Mike, Angelos, Angela, Stamatis, Stamos, Stratis (Michael, Angelo, Gabriel, Rafael)
9 - Nektarios
11 - Mina / Viktoros (Victor, Vic)
13 - Ioannos Xrysostomos
14 - Filippos, Philippos (Philip)
16 - Mathaios, Mateos(Matthias, Mat)
18 - Platonos
21 - Eisodia tis Theotokos, Despina, Maria (unmarried)
22 - Filimonos (Filemon)
25 - Merkourios / Aikaterinis, Katerina (Catherine, Cathy, Kathy, Kate, Cait, Karin)
26 - Stulianos, Stella, Stelios, Stylianos
27 - Nathanail
30 - Andrea, Andreas (Andrew, André)


DECEMBER

1 - Theoklitos
2 - Muropis
4 - Varvaras, Barbara
5 - Savva, Savas, Diogenes
6 - Nikolaos, Nikos (Nicolas, Nick, Niek)
7 - Amvrosios, Ambrosius
9 - Agias Annis, Anna
12 - Spuridonos, Spiros
13 - Eustratios / Loskias, Stratos, Lukia
15 - Eleutherios, Elefterios, Lefteris
17 - Daniel / Dionysios Zakunthos, Dionysos
18 - Sevastianos & Zois (Sebastian)
19 - Aglaias
20 - Ignatios
21 - Themistokleous, Ioulia, Julia, Julie
22 - Anastasias, Anastasia
24 - Eugenias, Evyenia, Efgeni, Jefgeni, Yefgeni
25 - Christmas Day, Christos, Chrisa, Chrisanthi, Christina
26 - Emmanouil / Synaksi Theotokos, Manolis, Manuella, Emma
27 - Stefanos, Stephania (Steven, Stephan, Stefania)