Flights to and from Crete
Flights and airports of Crete
Airports on Crete
Crete has 3 international airports, that are served by scheduled and charter flights: from west to east: Chania airport, Heraklion airport, and Sitia airport.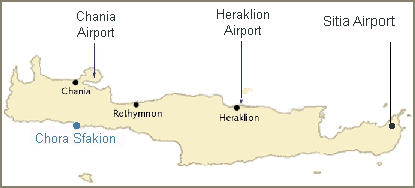 If your destination on Crete is Sfakia, in the southwest, then Chania airport is the most close one. It takes about 90 minutes to drive from Chania airport to Chora Sfakion. From Heraklion airport it is a little over 2 hours. Sitia airport is not a suitable flight destination, as it is too far away from Sfakia.
The airports in Crete also have names and IATA codes:
International airports Crete
Chania international airport: Giannis Daskalogiannis : CHQ
Heraklion international airport: Nikos Kazantzakis : HER
Sitia international airport: Municipal Airport of Sitia : JSH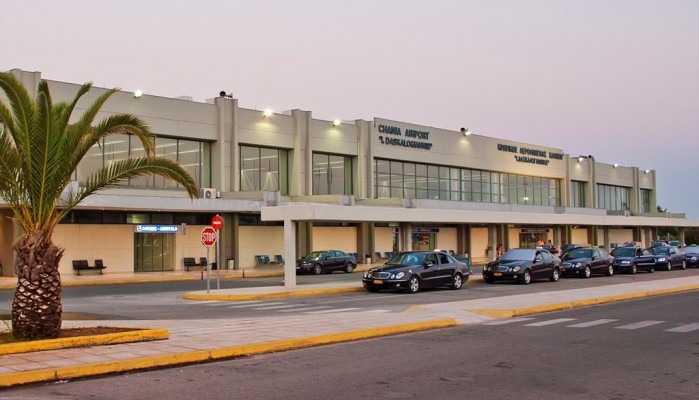 At each airport there are taxis and public buses, that connect the airport with the nearby city. You can also hire a car, or we can deliver a car for you.
| Distances by road | | Km | | | Km |
| --- | --- | --- | --- | --- | --- |
| From Chania to | Rethymnon | 72 | From Heraklion to | Rethymnon | 78 |
| | Heraklion | 150 | | Souda | 144 |
| | Souda | 6 | | Chania | 150 |
| | Airport CHQ | 14 | | Airport HER | 5 |
| | Vrisses | 33 | | Vrisses | 117 |
| | Chora Sfakion | 73 | | Chora Sfakion | 157 |
| | Frangokastello | 82 | | Frangokastello | 166 |
Flights to Crete
Tickets to Crete can be booked on-line, or at your travel agency. To get an idea of which of the many flight companies offer tickets to mainly Chania and Heraklion airport, you can have a look at the arrival and departure flights from today:
Arrivals and departures Crete
After you have arrived by flight in Crete, here is how you can reach Sfakia in the southwest of Crete: by hire car, public bus, taxi, ferry boat, or on foot:
How to reach Sfakia