Nature, flora and fauna in Sfakia
The limestone mountains, the sea, the plants and the animals

Crete, our sunny island in the blue Aegean sea, offers a mild but stimulating climate, clean air, excellent quality sea water and pleasant sea breezes.
As with many of the other Mediterranean islands, Crete is one large limestone mountain. It is rather long (290km) and thin with the main settlements and tourist areas in a narrow strip on the north coast. Wildflowers, including many orchids, grow in profusion. However due to the hot dry summers there is a band of plants coming into flower, then withering away, which moves up the hillsides as the snow melts in spring. One problem with finding wildflowers in other areas is that they rapidly get eaten by goats and sheep.
The changing geography is a tempting challenge for the ambitious hiker - Dikti, Ida, and the range of the "White Mountains" in the West determine the geographic features of Crete, and its four climatic zones have formed a plant life which is unique in Europe.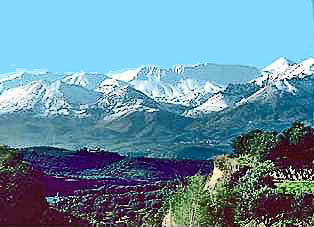 Although mountains run from East to West across the island, the most rugged and handsome are the Lefka Ori (White Mountains) in the West. They epitomize the essence of Crete which is virile, proud and fiercely independent, like the Cretans themselves who exploited this brutal terrain to launch their resistance against the Turks. Fifty eight peaks over 2000 m. in altitude are found here. The land is dissected by dramatic gorges that form small, fertile valleys and isolated plains high in the mountains (Askyfou, Amari, Lasithi) and give rise to some of the most spectacular views that are framed against the Libyan Sea to the South and the Sea of Crete to the North.
You can find more info on the geology of Crete on our geology of Crete forum:
Geology of Crete forum
Sfakia, our region in the Southwest, is dominated by the White Mountains, or 'Madares', as they are called locally, so named for the snow that mantles them in winter and the white limestone that shines from their peaks in summer. The White Mountains are comprised of three groups of mountains that are loosely identified as the eastern, central and western ranges. Of the many peaks, Pachnes (2453m) is the highest and the 2nd highest in Crete being only 3m lower than Mt. Psiloritis. There is an interesting story whereby mountaineers of Western Crete have been carrying rocks up to the Pachnes peak to increase its elevation to that of the highest peak in Crete. However, if the story is true, their work has not yet been recognized. In profile, the Lefka Ori are decidedly jagged with peaks that are sometimes snow-covered until early June. Here, at the edge of the melting snow, some of the most unusual and exquisite flowers in Crete can be found. The mountains maintain an aura of impregnability that is substantiated by any map of Crete. Roads partially encircle this stark, lonely region but the only passage through is by following the old footpaths created by shepherds and their animals. The isolation extends to the southern coastline where the massive mountains plunge precipitiously into the sea. There are almost no coastal plains but small pockets where villages have developed and are reached only by foot or by boat. The 111 peaks over 1500 m. high make the White Mountains an inveterate paradise for hikers, as are the over 50 gorges, which split the mountain massif.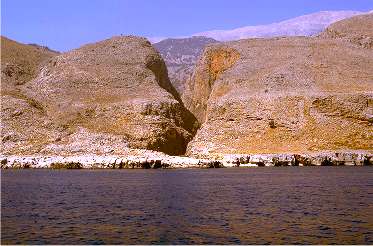 On the South the mountains plunge steeply into the sea. It is the wildest and most beautiful area of Crete and one of the rare places in Europe where you can laze on a beach whilst looking at snow covered mountains.
The coasts of Crete are diverse, indented and of a large variety of forms with dozens of bays, capes and peninsulas, both large and small. The northern shores are an ideal place for lively summer holidays, swimming and water sports. The southern coasts, which are more isolated, have a beauty all of their own to offer those who are seeking a quiet life close to nature. The sea offers a unique territory to marine life forms, which are very special, like dolphins, whales and turtles. Unfortunately all these life forms are endangered.
There are 2000+ different plant species in Crete with approximately 10% being indigeneous in the island. The Cretan flora is especially rich in herbal and pharmaceutical plants like oregano, thyme and labdanum . Indeed ,quite a big percentage of these are collected ,dried and sold to the local market and abroad. Diktamos, Hop Marjoram, Dittany of Crete, Origanum dictamnus L. (formerly Amaracus dictamnus Benth. or Amaracus tomentosus Moench.), is one of the best-known healing herbs of folklore. Native to the mountains of Crete and also called dittany or dictamnus, this perennial plant can reach a height of 0.3 meters. Procumbent white, woolly stems, usually trailing, develop pink or purplish flowers in the summer. The small gray leaves have a velvety texture. Of minor importance today, dittany of Crete is primarily used as a potted plant or as an ornamental plant in garden borders. The flowers have been used in herbal teas, but the plant has no culinary value. As a medicinal plant, the herb has been utilized to heal wounds, soothe pain, cure snake bites, and ease childbirth. In addition, it has been used as a renedy against gastric or stomach ailments and rheumatism. Virgil's verse from The Aeneid says it all:
Dittany of Crete
A branch of healing Dittany she brought
Which in the Cretan fields with care she sought
Rough is the stem, which woolly leaves surround
The leaves with flowers, the flowers with purple crowned.
Well known to goats; a sure relief
To draw the pointed steel and ease the grief.
There is also an amazing variety of flowers in Crete, like tulips, cyclamen, orchids etc. Due to the climate and the land terrain the blossoming period lasts for more than 6 months (March to September). Finally Crete is the northern point on the globe where certain African trees are encountered , like cedar and palm and tamarisk. Crete has also a varied fauna. There are certain subspecies of animals that are indigeneous only in Crete, like the local wild goat, kri kri,

and the Cretan tree frog. There are also various birds from a number of subspecies of the common hawk, the griffon vulture and the lammergeier to the grey heron. Finally, the sea life is fairly varied, and certain beaches in the south of the island offer protection to the caretta-caretta (sea turtle) during its reproduction period.
Caves
Greece has a lot of beautiful caves. In Greece the formation of caves took place in the Tertiary and Pleistocene periods. Since then many changes have taken place, some of which are still in process today. They formed in solid Upper Cretaceous, Eocene, Jurassic and Triassic limestone, in more recent argillaceous limestone and in recent conglomerate beds. Because limestone is a very easily eroded rock (resulting in karst landscapes), it is also the rock in which caves are most frequently found. 65% of Greek terrain is limestone; not unnaturally this pre-eminently karst landscape has a vast number of caves, both large, small, vertical, horizontal and littoral; it has also the highest number of caves found in any one country. Foreign scientists were the first to explore Greek caves. Amongst them was the German Findler who in 1841 investigated Katafyki on Kythnos. Visits by organized walking clubs and mountaineers followed. In 1950 the Greek Speleological Society was founded by John Petrocheilos; its objective is the systematic exploration and study of caves. By 1980 some seven thousand karst formations from all over Greece had been listed by its members. Several thousand of these have been explored, mapped and studied both for their contribution to knowledge and for their tourist potential. More than one hundred have been classed as being of interest to the tourist.
Fauna
Even in caves which the sun never penetrates and which are permanently damp, there is considerable animal and plant life. The animals which are born, breed and die in caves are divided into three categories. Trogloxenes: species which also live above ground and whose residence in a cave is only temporary, perhaps as a shelter from enemies; bats, rats, various spiders, diptera, etc., fall into this category. Troglophiles: species which live and reproduce successfully in caves, though also capable of existing on the surface of the earth if they find kindred species. They may enter caves by chance rather than by choice, or because of some inadequacy to face the struggle for life elsewhere. Troglobites: species resident only in caves, which have made certain physical adjustments to their surrounding irrespective of how they originally arrived there. Many such animals are visible to the naked eye, others, such as those living in the stagnant waters which inevitably collect, can be seen only through a microscope.
Flora
It is well known that plants cannot live without light. Nevertheless vegetation is often found in caves, not only near the entrance, but also deep inside. This occurs when the cave has a "chimney" or is artificially lit. In the latter instance certain plants take hold close to the light source, provided also that climatological conditions (heat and water) also favour growth. Specimens include lichens and ferns; where there is guano (bat droppings) fungi may also grow.
More than 500,000 years ago, towards the end of the Lower Palaeolithic Age, caves were the dwellings of carnivorous animals - bears, tigers, hyenas, lions, wolves - bones of which have been found at "Kokkines Petres"; Petralona, Chalkidiki; "Peramatos", Ioannina; "Ton Limnon", Kastia, Kalavryta and elsewhere. Caves were also the first dwellings of primitive man in both Palaeolithic and Neolithic periods. Traces of his habitation have been found at "Kokkines Petres", Petralona, Chalkidiki, "Alepotrypa", Diros, "Fitidi", Kefallonia, "Asphendou", Sfakia, Crete and elsewhere. From Palaeolithic times until today caves have been used as places of worship. Primitive man revered stalagmites as divinities; the ancient Greeks saw caves as a fitting place for the worship of their gods and made them also the setting for many of the most moving tales of classical mythology; many caves are called after the occupants - Pan, Pluto, the Nymphs. In folklore they became the lairs of dragons and the home of demons. Later, a large number of caves sheltered monasteries or chapels, and many small grottoes became hermitages. Caves which enjoyed some importance during national struggles for independence are countless, being used not only as places of refuge and shelter for armed men, (like the cave of Daskalogiannis, just 150 meters from Vrissi Beach in Chora Sfakion: you can still enter this cave from the sea with a small boat: way in the back there is a small beach with rock paintings, lighted by the sun through a small hole in the ceiling), but also as secret schools, hospitals and workshops. From ancient times the springs within caves have been tapped as a water supply (Agia Eleni of Zygos at Kavala) and many regions in Greece are watered and irrigated from underground supplies. Other cave springs are renowned for their curative powers (Hypati, Agios Kyrikos on Ikaria; Milos, Kammena Vourla and others). In mountainous areas ice from caves is used for the relief of sick people; cheesemakers store their products in their cool depths and shepherds pen their sheep there.