Walks and hikes in Sfakia, southwest Crete
The outstanding walking area of Crete: mountains, gorges, trails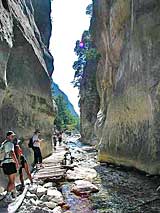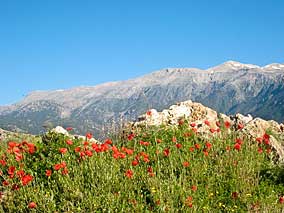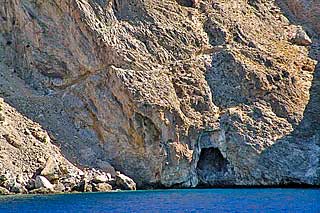 Sfakia in the southwest of Crete is very suitable for making a beautiful walk or hike, either on the available paths, or through the gorges and on the mountain slopes, following the ancient 'kalderimi'. The area is being dominated by the White Mountains ("Lefka Ori"), taking a 960 km² with 20 summits above 2000 metres, of which Pachnes is the highest with 2453 metres.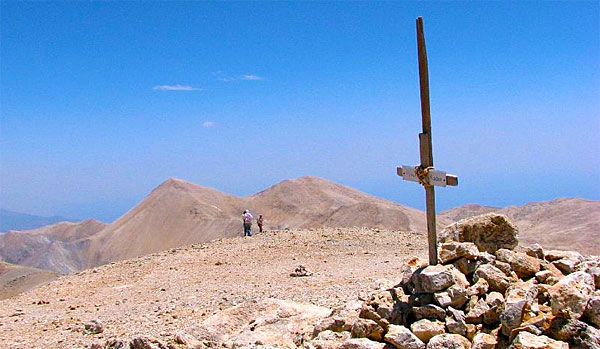 In the south the mountain cliffs drop steeply into the Libyan Sea. The White Mountains are being split by 18 gorges, of which the Samaria gorge is the biggest and most famous one, with steep slopes of 1000 metres high and a lenght of 16 km.
The White Mountains contain several fertile plains, such as the Ómalos plateau, the Anópoli plateau, the Askyfou plateau, and the coastal plain around Frangokastello.
The whole area is full of paths and trails of various lenghts. Most of them exist since ancient times, and have been created by goats and shepherds. They are called kalderími. There are also several classical paths from the Roman and Venetian occupation of Crete.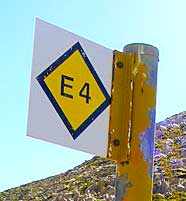 From the west to the east of Crete there is also the famous European long-distance walking path E4, which leads through Spain • France • Switzerland • Germany • Austria • Hungary • Romania • Bulgaria • and finally Greece and Crete, and Sfakia. On Crete it leads from Kastelli in the northwest to Kato Zakros in the east of the island, about 500 km long.

In Sfakia exist about 50 walks, that are well-known, through the White Mountains and along the coast. Some are easy, some are only for trekkers, or even mountaineers. All need a fairly good condition, no problems in the legs, and none are paved: the constant presence of destabilising stones underfoot is a challenge to everyone. They all need at least some preparation. And one should never forget about the heat, the weather, and water supplies. Always tell people where you are staying that you will do this-and-that walk. And note that your mobile phone will not work everywhere in the mountains, and never in gorges.
Some walks only take an hour, others take several days, when you need to camp outdoors.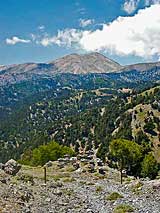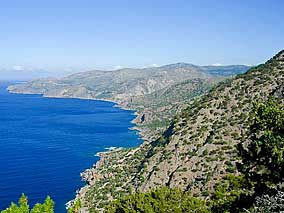 Here we will show you several walks, so that you will get an idea of what Sfakia has to offer to walkers. For details we are happy to refer to this walking guide by Loraine Wilson:
The High Mountains Of Crete

The White Mountains, Psiloritis And Lassithi Ranges
Loraine Wilson, Paperback, 352 pages, October 2008; in English
2nd revised edition
Cicerone Press
ISBN: 978-185-2845-25-4
Now published as a full colour guide, this new edition supersedes and expands Cicerone's original guide to The White Mountains, with additional routes, photographs and information for the Psiloritis and Lassithi ranges, and new mapping.
With an agreeable climate, an amazing landscape and a history stretching back to the start of civilisation, Crete makes an outstanding destination. The beauty of the Gorge of Samaria National Park is well known, but Crete offers many other spectacular gorges, together with numerous peaks rising to over 2100m. There are high mountain plains, forested crags, massive cliffs, and remote beaches.
Proud, but also informal, friendly and hospitable, Cretans offer a range of facilities to visitors both in the countryside and on the coast.
This work features general information on: walking in Crete; Western Crete: 53 walks in the White Mountains and south coast together with 10 multi-day trekking routes; Central Crete: 17 walks and treks on Mount Ida; Eastern Crete: 12 walks and treks in the Lassithi Mountains; and, E4 Trail across each of these ranges.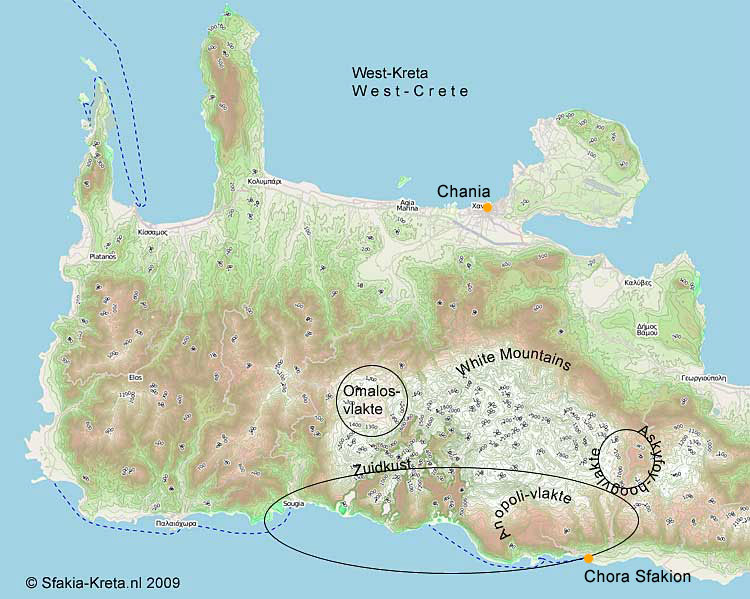 Choose the walks that match your style from these walking areas in Sfakia, Crete:
In Loraine Wilson's book (p. 63) she uses a grading system to classify all walks she describes, from an easy A to a very hard E:
A : short walks, easy underfoot, with hamlets or destinations in sight
B : walks on roads or tracks and popular, well-tramped, easy-to-follow paths
C : walks on less-frequented mountain footpaths
D : more demanding daywalks, on remote terrain. Any of the backpacking routes, as more preparation is needed
E : very remote and rugged mountain routes. Remote means that it takes a long time to reach, even if it is in sight
Warning
The grading below and the estimated time given are just our indication. Use at your own risk. Each person is different, the weather can change, rain makes even the most easy path slippery, extreme heat and not enough water are very dangerous. Having vertigo will change your options. Take your own careful consideration.
Omalos plateau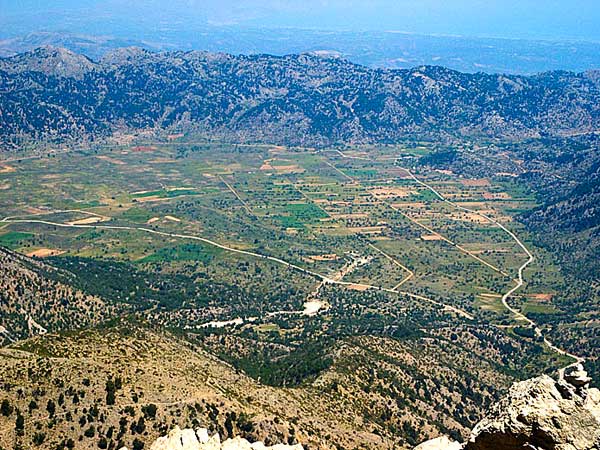 Walks on Omalos plateau
A: Around the Omalos plateau: 5-6 km, 2 hours
B: Samaria gorge and Samaria National Park: 18 km, 5 hours
C: Ascent of Gingilos: 9 km, 5½ hours
A: Xyloskala to Kallergi mountain shelter: 3 km, 2 hours
C: Kallergi shelter to Melindaou: 16 km, 7 hours
D: Xyloskala to Koustogerako: 14 km, over 7 hours
D: Koustogerako to Xyloskala: 14 km, 9 hours
C/D: Omalos to Koustogerako: 13 km, 5½ hours
B: Omalos to Agia Irini gorge: 8 km, over 3 hours
B: Agia Irini gorge to Sougia: 8 km, 4 hours
B: Sougia to Lissos and Paleochora (E4): 13 km, nearly 5 hours
C: Omalos to Zourva: 9 km, over 5 hours
C: Lakki to Omalos: 9 km, 4½ hours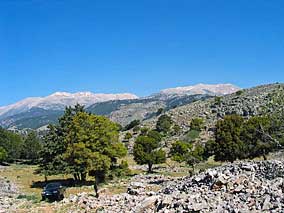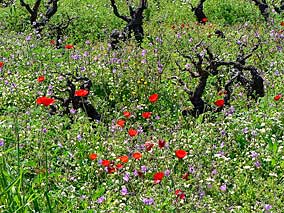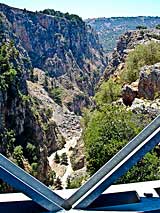 Askyfou plateau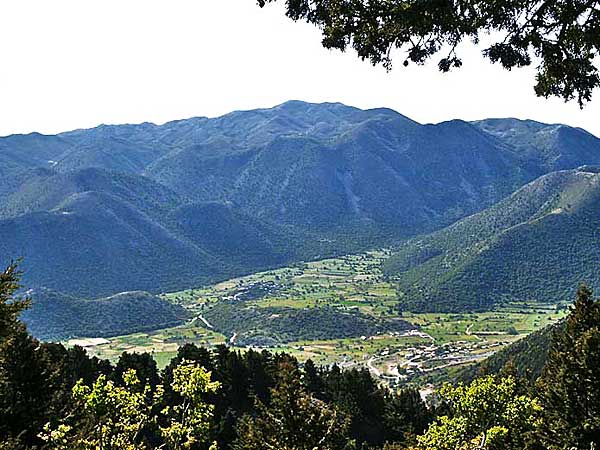 Walks on Askyfou plateau
A: Around Askyfou plateau: 5 km, nearly 2 hours
A: Askyfou to Imbros: 5 km, 1½ hours
B: Imbros gorge: 5 km, 2½ hours
A: Komitades to Chora Sfakion: 4 km, 1 hours 15 minuten
B: Asfendou gorge from Askyfou: 11 km, bijna 5 hours
D: Askyfou - Goni - Kallikratis: 10 km, 7½ hours
B: Kallikratis gorge: 6 km, 2½ hours
B: Askifou - Ammoudari - Niato (E4): 8 km, 3 hours
D: To the summit of Kastro: 16 km, 8½ hours
C/D: Askyfou - Kali Lakki - Mouri - Anopoli: 21 km, 7 hours
C: Askyfou to Vafes: 10 km, 4½ hours
Anopoli plateau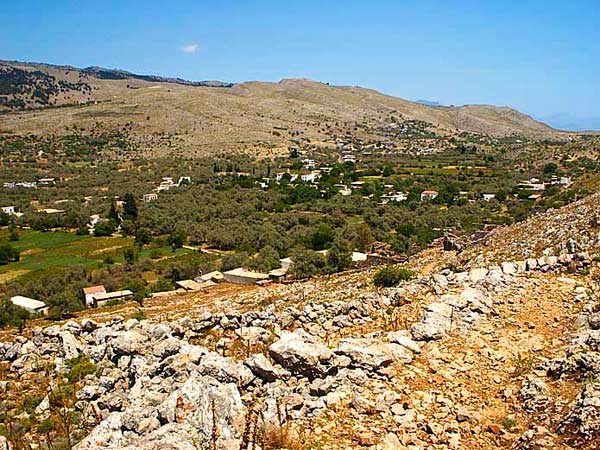 Walks on Anopoli plateau
A: Around the Anopoli plain, exploring the hamlets: 2 hours
B: Loutro to Livaniana, and back: 2 hours
B: Anopoli to Loutro, down from Agia Ekaterini: 4 km, nearly 2 hours
B: Kambia to Loutro: 3 km, 1½ hours
B/C: Kambia to Chora Sfakion: 4 km, 1 hours 45 minuten
A: Anopoli to Aradena gorge rim/ bridge: 4 km, less than 1 hour
B: Into Aradena gorge by paths near bridge, down and up: less than 1 hour
C: Aradena gorge: 5 km, 4½ hours
B: Aradena to Agios Ioannis en Sellouda: 11 km, over 3 hours
B: Aradena - Sellouda - Agia Roumeli: 11½ km, over 4½ hours
C/D: Chora Sfakion to the top of Pachnes, using a 4 WD car: 65,5 km by car, 7,3 km by feet, 8½ hours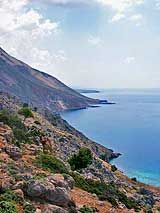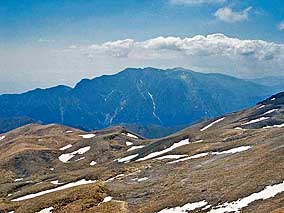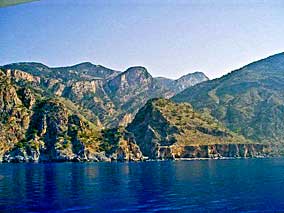 Along the southwest coast
Walks along the southwest coast
B: Chora Sfakion to Loutro (E4): 6 km, 2 hours 15 minuten
B: Chora Sfakion to Anopoli: 4 km, 2 hours 45 minuten
C: Chora Sfakion to Mouri: 5 km, 7 hours
B/C: Loutro to Livaniana and either Anopoli or Marmara Beach: 9 km, nearly 6 hours
B: Loutro to Marmara beach: about 1 hour
C: Loutro to Agia Roumeli (E4): 14 km, 5-6 hours
B: Samaria gorge: 18 km, over 6 hours
C/D: Eligas gorge: 10 km, 5½ hours
B: Imbros gorge: 5 km, 2½ hours
D: Ilingas gorge: ?
C: Sfakiano gorge: ?
B: Asfendou gorge: 4 km, 2½ hours
B: Kallikratis gorge: 6 km, 2½ hours
C: Aradena gorge: 5 km, 4½ hours
B: Chora Sfakion to Sweetwater Beach: 3 km, 1 hour
A: Chora Sfakion - road to Manolou: 3 km, 2 hours
A: Chora Sfakion to Frangokastello: 12 km, 2½ hours
Searching for the 100 churches of Chora Sfakion: depends on how many you want to visit: look here
A: To Ilingas beach: 1 km, 20 minuten
A: To Ammoudi beach or Filaki beach: 45 minuten
A: To Koutelos beach: 6 km, 2 hours
Mountain walks
High mountain walks
Please find advise elsewhere. This is beyond the scope of this web site.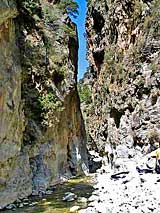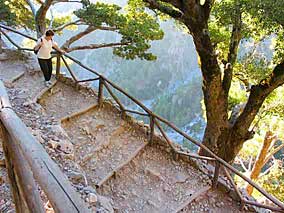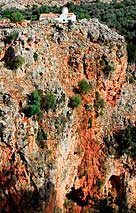 Through the gorges
Walks through the gorges in Sfakia
B: Samaria gorge: 18 km, over 6 hours
C/D: Eligas gorge: 10 km, 5½ hours
B: Imbros gorge: 5 km, 2½ hours
E: Ilingas gorge: ?
C: Sfakiano gorge: ?
B: Asfendou gorge: 4 km, 2½ hours
B: Kallikratis gorge: 6 km, 2½ hours
C: Aradena gorge: 5 km, 4½ hours
E: Klados gorge
E: Tripiti gorge
B: Agia Irini gorge: 8 km, 4 hours
Apart from the various maps that you can find on our Maps of Crete page, we also recommend these maps by Anavasi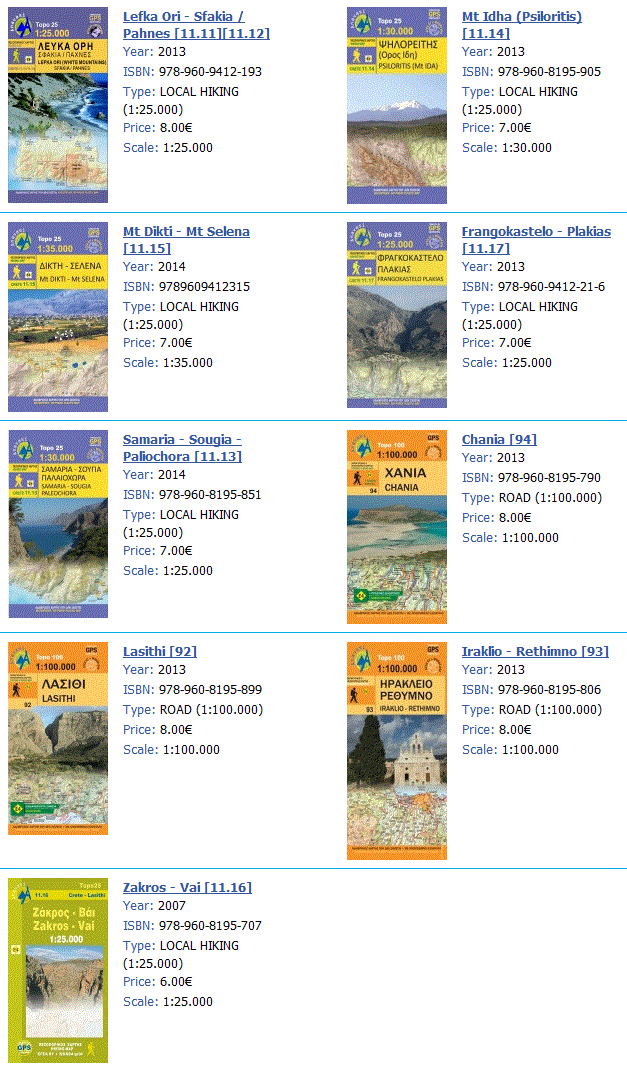 These maps are also available in digital form, suitable for your GPS or Google Earth. Here is a sample: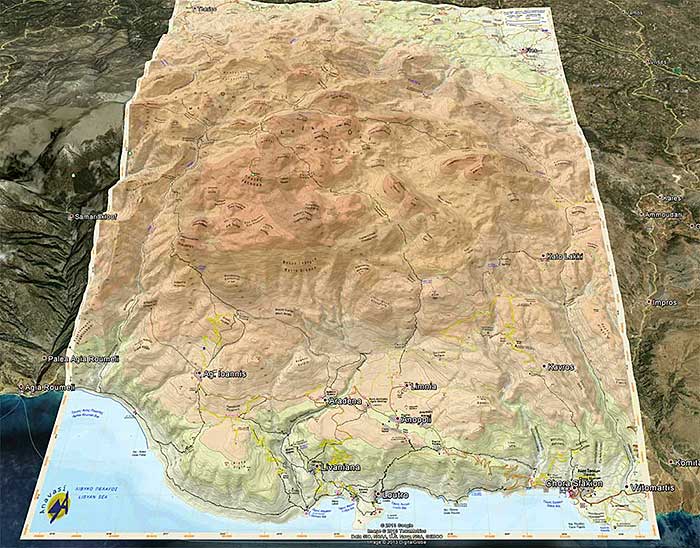 You can read more news, or ask a question, about walking and hiking in Sfakia and Crete on our Walks and Hikes in Sfakia Forum:
Walks and Hikes in Sfakia Forum